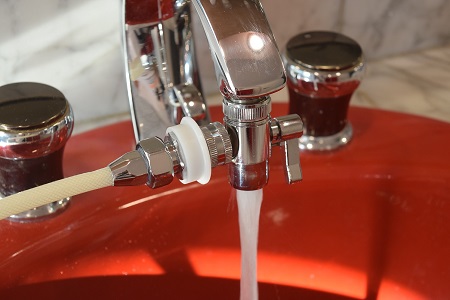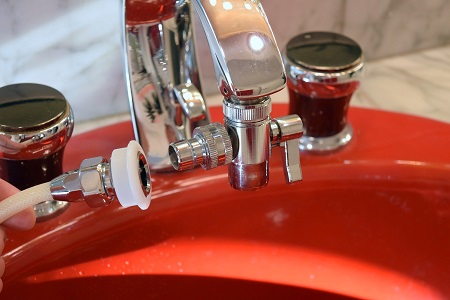 The HydraWand Faucet Diverter Qwick-Connect Model is an economical solution for a warm water bidet at home or when traveling, that is quick and easy to install.
The HydraWand Faucet Diverter Model  comes with our exclusive new  Hydrawand Hose Qwik-Connect, (patent pending) and our high quality Faucet Diverter, which replaces the aerator on most bathroom sink faucets.   Simply unscrew your aerator, and screw in the Hydrawand Faucet Diverter.   Snap on the hose with the Hydrawand Qwik-Connect, adjust the water temperature, push the diverter lever up, and you have a warm water bidet.  The  diverter comes in a velvet travel bag,  with two thread adapters, so it will fit 3 different sizes of faucet.
If you want to take the HydraWand with you when you travel,  our Qwik-Connect and Faucet Diverter kit is a must have.   With a little practice, you will be able to hook up the diverter to most hotel faucets in a few minutes!
For a more  permanent and convenient installation  at home, we recommend our Undersink  Thermostatic Mixing Valve Kit.
(View our pictures on the Undersink Mixing Valve Kit for more information)
NOTE: The Faucet Diverter may not work with some new designer faucets that do not have a suitable aerator connection, and some faucet necks may leak when the diverter valve is closed. Contact your faucet manufacturer for a special 55/64 male adapter if ours do not fit.
Specifications
The Hydrawand Faucet Diverter is made for a standard 55/64″-27  male faucet neck. The included adapters are for 15/16, and 13/16 faucets.  If you are unsure of the thread size of your faucet aerator, call the manufacturer, or take it  out and go to Home Depot aerator replacement section, and ask for an adapter fit the 55/64 female thread of the Diverter.
The Hydrawand Qwik-Connect uses a standard 1/2″ Shower hose thread, so it can also be used to connect the Hydrawand to your shower diverter.