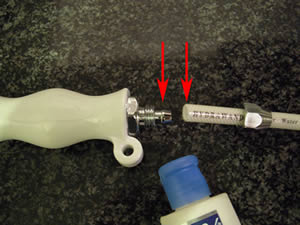 SLIDE THE HOSE NUT OVER THE END OF THE HOSE, THEN COAT THE HOSE BARB AND THE INSIDE OF THE HOSE WITH A WATER BASE LUBRICANT, LIKE KY GEL.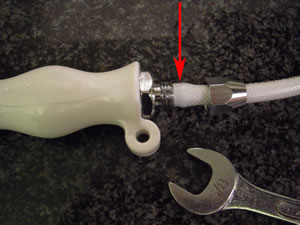 GRIP THE HANDLE FIRMLY AND PUSH THE HOSE OVER THE BARB UNTIL IT CONTACTS THE THREAD SHOULDER. THEN, APPLY  A DAB OF KY LUBRICANT TO THE OUTSIDE OF THE HOSE, (SHOWN BY THE RED ARROW), AND SCREW DOWN THE NUT. USE A 5/8 INCH END WRENCH OR SMALL ADJUSTABLE WRENCH TO TIGHTEN THE HOSE NUT.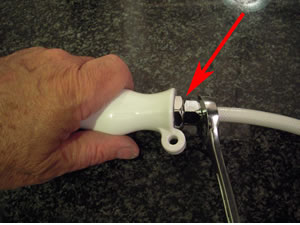 ONCE THE HOSE NUT TOUCHES THE SHOULDER OF THE HANDLE NUT, IT IS SECURE. NO FURTHER TIGHTENING IS NECESSARY. IF THE NUT IS TOO HARD TO TURN, BACK IT OFF AND APPLY MORE LUBRICANT. USE A 7/8" WRENCH FOR BACKUP WHEN NECESSARY.
THE HYDRAWAND AND ITS FITTINGS ARE CONSTRUCTED OF THE THE HIGHEST QUALITY MATERIALS IN THE INDUSTRY
THE HYDRAWAND IS COVERED BY A ONE YEAR WARRANTY.